New Lodge Launched in Double Quick time!
The Mark Internet Lodge got off to a cracking start on Saturday 4th June.The Consecration ceremony in Mark Masons Hall in London was presided over by RW Derek Thomas, our PGM. To assist him there were 3 other PGMs including RW Eirian Jones who has very recently become the PGM for the Mark Province of South Wales.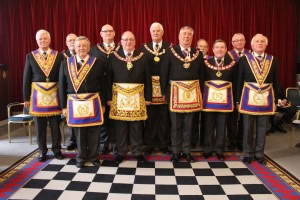 The Consecrating Team

R.W.Bro. Derek Thomas Provincial Grand Master

W.Bro. David Richard Powell PGSD, DepProvGM

R.W.Bro. Richard Olliver ProvGM (Berks)

R.W.Bro. John Morgan ProvGM (Somerset)

W.Bro. Ryan Williams DepGSec

W.Bro. Philip Sefton PAGDC

W.Bro. Brendan Williams PAGDC

W.Bro. Elfan Jones ProvGOrg

W.Bro. Mark Lloyd ProvGDepDC

R.W.Bro. Eirion Jones ProvGM (South Wales)

W.Bro. John Court PAGDC
Nearly all the Founders were there. Some of those who were not had the excuse of living on the other side of the world. Such as Brazil!
We also had a good number of Joiners that swelled our membership to 49 on the day.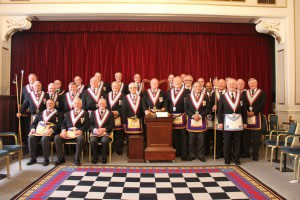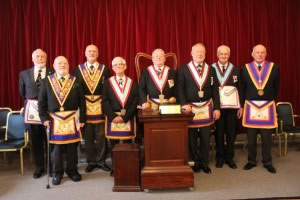 Happy to meet, happy to part, happy to meet again.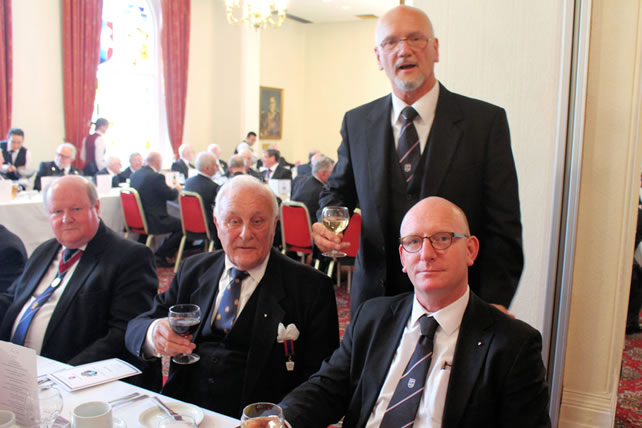 PROVINCE OF MONMOUTHSHIRE
The Mark Internet Lodge No. 1975
Installing Master:- W.Bro. D Powell DPGM
Petitioners/Officers 2016/2017
| | | |
| --- | --- | --- |
| Office | Name | Province/District |
| W.Master | W.Bro. Royston Morris | Monmouthshire |
| I P M | W.Bro. David Richard Powell | Monmouthshire |
| Senior Warden | W.Bro. Michael John Herman | London |
| Junior Warden | W.Bro. Timothy Charles Huckle | Monmouthshire |
| Master Overseer | W.Bro. Keith Hamilton | Monmouthshire |
| Senior Overseer | W.Bro. Philip William Davies | South Wales |
| Junior Overseer | W.Bro. Terrance Bailey | Monmouthshire |
| Chaplain | W.Bro. Derek John Oliver | Essex |
| Treasurer | W.Bro. Kenneth Michael Donoghue | Monmouthshire |
| Registrar of Marks | Bro. George Kaven Marshall Young | Durham |
| Secretary | W.Bro. David Geoffrey Weston | Monmouthshire |
| Director of Ceremonies | W.Bro. Clayton Benjamin Roberts | Monmouthshire |
| Almoner | W.Bro. Andrew Edward James Hopkins | Monmouthshire |
| Charity Steward | W.Bro. Norman Davies | Monmouthshire |
| Senior Deacon | W.Bro. David Herbert Elliott | South Wales |
| I P M | W.Bro. David Richard Powell | Monmouthshire |
| Junior Deacon | Bro. Gerald Beese | Monmouthshire |
| Assistant Secretary | W.Bro. Roger Grahame Ogden | Monmouthshire |
| Assistant D.C. | W.Bro. Jeffrey Robins | Monmouthshire |
| Organist | W.Bro. Christopher Michael Malpus | Gloucestershire & Herefordshire |
| Inner Guard | W.Bro. Bryan Tansley | Monmouthshire |
| Steward | Bro. Gerwyn Edward Williams | Monmouthshire |
| Steward | W.Bro. David Harold Starbuck | East Lancashire |
| Steward | W.Bro. Darren Herbert Nelson Bending | Hertfordshire |
| Steward | W.Bro. Lawrence Knight | Staffs & Shropshire |
| Steward | W.Bro. David Norman Webb | Monmouthshire |
| Steward | Bro. George William Rennie | Hertfordshire |
| Steward | W.Bro. Phillip Verdun Williams | Monmouthshire |
| Steward | W.Bro. David John Lewis | Monmouthshire |
| Steward | W.Bro. Gnanapragasam Louis Mahendra | Monmouthshire |
| Steward | W.Bro. Paul Thomas Hartshorn | Monmouthshire |
| Steward | W.Bro. Michael Harrison Quick | Monmouthshire |
| Steward | W.Bro. Sundarampillai Navaratnarajah | South Wales |
| Steward | W.Bro. Felipe Eduardo Portela de Paulo | Brazil |
| Tyler | W.Bro. William Henry Davies | Monmouthshire |
| Petitioner | W.Bro. Naunton Charles William Liles | South Wales |
| Petitioner | W.Bro. Roderic Lee Wagoner | Arizona, USA |
| Petitioner | W.Bro. Patrick Van Oosten | Illinos, USA |
Share our global experiences, thoughts and hopes